Are you ready for the PMP® exam?
Join the group and repeat the material with us.
The PMP study group 6th edition (2022) has ended. Thank you for participating.
Everyone interested to participate in the next edition – follow the news on the PMI PC website.

Is PMP study group fee to join?
PMP study group is open with free admission for the PMI members. Non-members are more than welcome and will be kindly asked to pay 140 PLN or 30 EUR fee.


Is the PMP study group in English?
Yes, PMP study group will be held in English.
When will the PMP study group program take place?
All sessions will take place twice a week during May and June at 6pm – 8pm CEST (polish summer time). More details regarding the dates will be provided later on.
The first session will take place on May, 12th.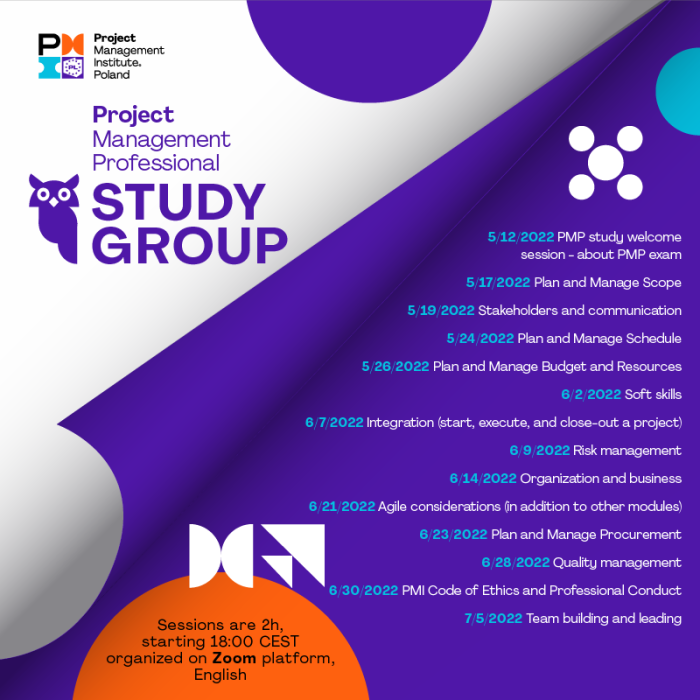 FAQ – Frequently Asked Questions
What is the PMP?
The Project Management Professional (PMP)® is the world's leading project management certification. Now including predictive, agile and hybrid approaches, the PMP® proves project leadership experience and expertise in any way of working. It supercharges careers for project leaders across industries and helps organizations find the people they need to work smarter and perform better. More info
Why the PMP?
The PMP adds value. CIO magazine ranked the PMP as the top project management certification in North America because it demonstrates you have the specific skills employers seek, dedication to excellence and the capacity to perform at the highest levels.
The PMP delivers benefits. The median salary for project professionals in North America is 25% higher than
those without it.
The PMP proves you work smarter. It shows you have the skills to drive business results and increase your organization's impact in the office and around the world.
What material range do I need to know?
The scope of the material for the exam is described in the document Examination Content Outline –January 2021 .
GABRIEL SZNAJDER
Content supervisor, MBA, ATPI-PMP
RYSZARD KOŁODZIEJ
Project supervisor, PhD,MBA,PMP,ACP
JOANNA ADAMSKA
Project team
MONIKA CZERNIEJEWSKA
Project team
MATEUSZ GAŃSKI
Project team
KRZYSZTOF MOSKWA
Project team

JAN ORŁOWSKI
Project team